On March 30, 2019 (UPI), at a crowded downtown intersection less than a mile from the U.S.-Mexico border, Democrat Beto O'Rourke brought his presidential campaign to his native El Paso, Texas, for the first time.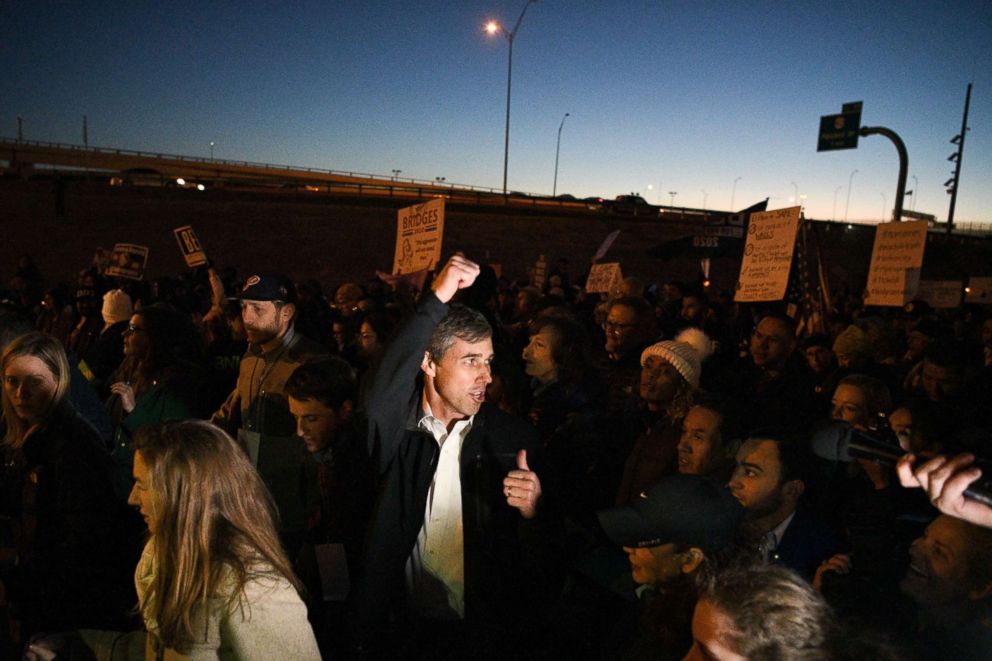 "Welcome to the beautiful, magical, safe and secure U.S.-Mexico border," U.S. Rep. Veronica Escobar, D-Texas, said as she introduced candidate O'Rourke. "El Paso is the Ellis Island of the border and in Beto O'Rourke we are sending the nation our best."
"We are safe because we are a city of immigrants and asylum seekers," O'Rourke said in a stump speech that lasted 30 minutes. "El Paso represents America at its best." President Donald Trump's El Paso visit is a great opportunity to point out that the west Texas city is a rats' nest of law enforcement corruption, a major smuggling route into the U.S. for Mexican drugs, illegal immigrants, and Islamic terrorists and the headquarters of a sophisticated narco-terror ring operated by two of the FBI's most wanted. While local officials promote it as one of America's safest cities, Judicial Watch has exposed in a years-long investigation the disturbing reality gripping the municipality that sits along the Rio Grande across famously violent Ciudad Juárez, Mexico.
Beto O'Rourke was dead wrong about El Paso – either he is ignorant or just lying to get votes. Even worse, his statements put the residents of El Paso, and the United States, in danger.
Contrary to the dangerous misinformation of T Beto O'Rourke, the Drug Enforcement Administration (DEA) says El Paso is a major hub for Mexican opioids and methamphetamine enroute to the rest of the United States. Recently, U.S. Customs and Border Protection (CBP) released figures showing that the El Paso sector had an astounding 1,588% increase in illegal immigrant apprehensions during the first month of 2019 compared to the first month of 2018.
Drugs and Central Americans aren't the only things being smuggled in through El Paso. Islamic terrorists are also making it into the U.S. with the help of Mexican drug cartels. Judicial Watch exposed an operation in which Mexican drug cartels smuggle foreigners from countries with terrorist links into a small rural town near El Paso by using remote farm roads—rather than interstates—to elude the Border Patrol and other law enforcement barriers. The foreigners are classified as Special Interest Aliens (SIA) and are transported to stash areas in Acala, a rural crossroads located around 54 miles from El Paso on a state road – Highway 20. Once in the U.S., the SIAs wait for pick-up in the area's sand hills just across Highway 20.
Judicial Watch also broke a story about an ISIS training cell just a few miles from El Paso in an area known as "Anapra" situated just west of Ciudad Juárez in the Mexican state of Chihuahua. Law enforcement and intelligence sources on both sides of the border confirm that cartel-backed "coyotes" help smuggle ISIS terrorists through the desert and into the U.S. between Acala and Fort Hancock, Texas. The areas are targeted for exploitation by ISIS because of their understaffed municipal and county police forces and the relative safe-havens the terrain provides for the unchecked large-scale drug smuggling. In the aftermath of Judicial Watch's story about Islamic terrorists operating in Juárez, Beto O'Rourke, the former congressman that's holding an anti-Trump rally during the president's event at the El Paso County Coliseum, tried to silence federal law enforcement sources. O'Rourke, who represented El Paso in the House before a failed Senate bid, has long declared that Juárez is safe even as the notoriously violent region adjacent to his district is renowned for beheadings, gunfights, kidnappings and drug trafficking. Juárez is among the world's most dangerous cities and the most dangerous place in the western hemisphere.
Beto O'Rourke is OK with spreading false information to get votes even if it gets someone killed.